Make It Pop

Boring be gone! Colour can be intimidating, but throw cushions are an easy and budget-friendly way to experiment, so go crazy with your favourite bold pattern or print. Use colours that you are instantly attracted to and your room will become energised and vibrant.

The best part of this cushion update? If you want to change it up, it's as simple as switching your cushion cover.

Tip!

If you're using a bright pillow as a focal point, look for an interesting pattern and work on that as the base to add other patterns.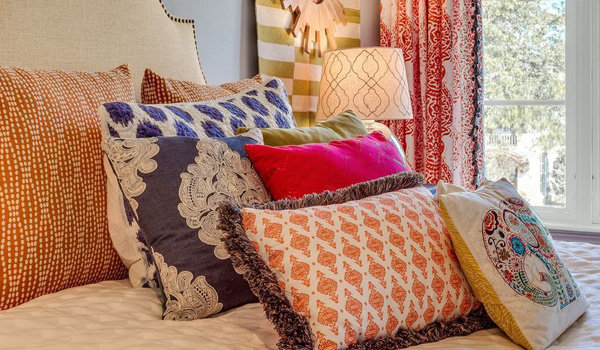 2. Dream Theme
Botanicals, ikat, or geometrics —whatever you love—pile it on! When you're working with the same pattern or theme, colours don't matter. The blue, purple, orange, pink, and green cushions all work together to create a purposeful feel.
Here, everything has a bohemian style, despite the differing patterns. In the same way, nautical cushions or rustic-themed cushions could all coexist easily because of their theme, not the colour or pattern of each individual cushion.

3. Opposites Attract
Not for the faint of heart—it takes a bold decorator to look across the color wheel and choose the color least like all the others.
4. Use an Accent Color
Another easy way to inject colour into your room is to draw from the accent colors. Use a piece of artwork or the rug in room to draw from in selecting colours.
5. Keep it in the Family
If you love color, but are wary about mixing tones, stick with ones you already have. Double up on the hue of your sofa, bed, or chair with matching cushions. Like layering scents, layering like shades increases the color power, really emphasizing that hue.
Bonus. Forget the Rules
If you like it, use it! With hundreds of cushions, it's easy to find the perfect cushions for your tastes at Bungalow Living.
Filling your home with pieces you love injects personality, and creates a space in which you'll want to spend time.